Winners of the 2020 Play for Change awards
We are delighted to announce the winners of the 2020 Play for Change awards. Congratulations to all the toy makers that go the extra mile when developing their products!
Click on the tab to find out more about the winners in each category
In the empowerment category, the judges were looking for great toys that make children believe in themselves. No stereotypes around gender, race or appearance. Toys that were made more accessible for less-abled children were also in the running.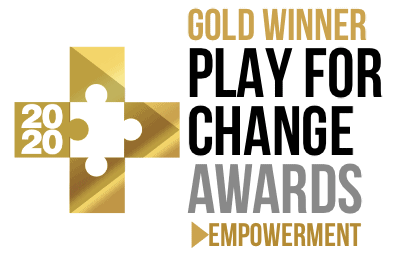 Barbie Empowerment
Barbie Empowerment is a Mattel initiative that covers both the fashionistas line, the role mode line and the Dream Gap campaign.
The jury was enthusiastic about how Mattel with the fashionistas line manages to ensure that all kids (no matter what size, skin tone or ability) can see themselves reflected in the toy they are playing with. This is not only important for a child's feeling of self-worth, playing with dolls that reflect different realities than the one they are most close to also helps children to be more inclusive towards others. It was felt this was a big step forward by ways of ensuring diversity. The judges also applauded how the role model line of dolls and the Dream Gap campaign inspire girls to pursue their dreams even if these are thought of as unreachable, it has a real 'can do' attitude.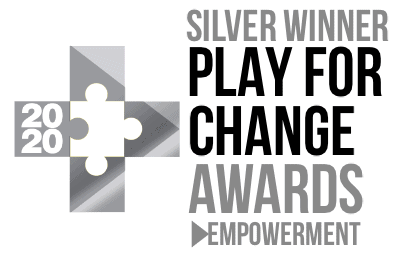 Twin Science Kit for the Visually Impaired
The Twin Science Kit for the visually impaired is an upgrade of the original twin science kit so that visually impaired children can play with the different modules and blocks thanks to braille embossment on the pieces. The instructions in braille are also included. This kit is aimed at children over 8 years and enables technological experiments such as assembling small scale car or an alarm clock.
The jury appreciated the efforts that had been made to ensure visually impaired children can enjoy the technological challenges of constructing an functioning object – such as an alarm clock. The same kit can now be used by everybody, whether or not visually impaired, therefore making play more inclusive. The manufacturer has collaborated with associations for the visually impaired in both the UK and in Turkey to make sure all the needs of the potential audience would be met. Whilst not the main criteria, the jury also appreciated that the marketing of the product does not make a distinction between boys and girls, clearly giving the message girls can be 'STEM people' too.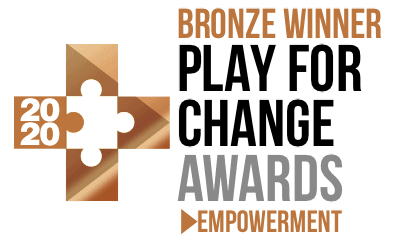 Creatable World
Creatable World is a gender-neutral doll with clothes and accessories that enable the child to turn it into any kind of gender identity they prefer.
The jury felt this toy give kids true freedom to 'create' their own doll rather than reach for something preconceived. It is not only gender inclusive but also comes with different skin tones. The doll also has a childlike appearance that helps children to see themselves when playing with it. The jury felt that the toy's aim to break gender stereotypes is truly met. Not only does the product enable to positively represent different gender identification, but it is also clearly marketed as such. The packaging has neutral colours such as green and yellow and it displays boys and girls in order to appeal to both.
In the sustainability category, the judges were looking for toys or games that educate children about the future of our planet.They also looked for companies that are front-runners in using sustainable raw materials, packaging, production processes or in making recycling possible.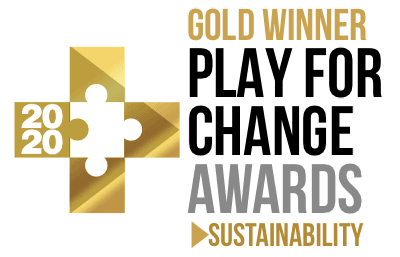 Hasbro Toy Recycling Program
The Hasbro Toy Recycling Program Is an innovative initiative aimed at addressing the end of life cycle of Hasbro's products. Consumers can send their toys and games at no cost for them. These products will be sorted and the materials will be recycled in specialized recycling facilities. The recycled materials will be then used to produce items such as park benches and storage containers of flower pots.
The jury felt that this initiative shows real leadership. It opens something that seemed 'out of reach' for the sector especially because toys are tricky to recycle. They are made so as not to be taken apart for safety reasons and they often consist of many different materials that belong in different waste streams. Despite this, Hasbro has moved forward, which is to be commended. Also, by starting with this initiative, Hasbro is creating the expertise with the recycler, which other companies can profit from later on.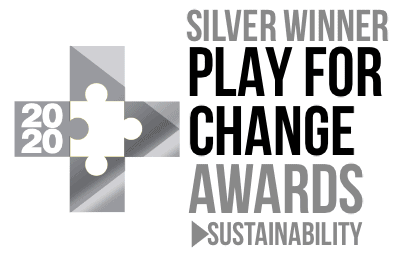 BioToys
BioToys is a line of toys for pre-school children made of bioplastic (at least 90% sugarcane). Their bioplastic is not only as durable as traditional plastic, but it can also be recycled at the end of its life cycle. Furthermore, the toy sets come in boxes made of recycled cardboard with almost no plastic is used for packaging.
The jury welcomed not just the switchover to more sustainable raw materials but also the way this had been executed: they have worked with Nordic Swan for a full life cycle assessment so its impact on the environment throughout its whole life cycle has been studied. They have made sure that the sugarcane used comes from a sustainable source and has been transported in the most sustainable way. Also, the packaging reflects the philosophy behind this product with no plastic netting, no plastic film and 100% recycled carton. We were happy to see such an inspirational initiative from what is a relatively small company that manufactures locally.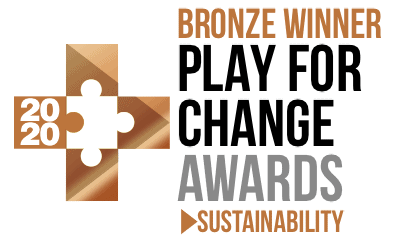 Sequence Puzzle – In nature
Sequence Puzzle – In nature is a fun puzzle for children over three years consisting of pieces to be joined in sequence to recreate a story which the child is familiar with, for example, from the egg to the hen.
The jury appreciated how a traditional toy such as a puzzle had been rethought to tick all 'green' boxes that could possibly be ticked. Sequence Puzzle provides kids with simple lessons about nature. All the materials used are 100% recycled and the puzzle pieces are covered with completely biodegradable cellulose-based protective film. The product is manufactured locally in Italy. The jury members considered that it could be a very good example to manufacturers of similar puzzles and games.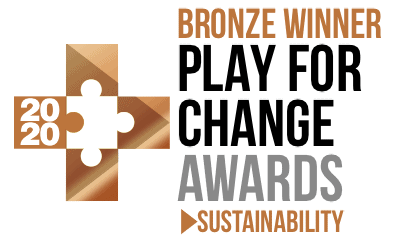 The Good Life
The Good Life is a board game for all the family that teaches the "ins and outs" of sustainable living. Children and adults will learn fun and interesting facts about food, nature and environment.
The judges were keen to also award a very small company, to show that also at that level, positive action is possible. The Good Life, besides providing fun when playing, teaches the players about a self-sufficient way of living, something we all too often forget about as keen consumers. The producers also try to echo the green message behind the product by making the production as sustainable as possible.
In the future skills category, the judges were looking for toys that stimulate those skills that children might need to face the world of tomorrow such as coding, social media fluency, clear communications or negotiation.
Learning Resources© – Artie 3000TM
Artie 3000 is a programmable robot aimed at children over seven years. Children can programme the robot to draw any sort of shapes.
The jury felt that Artie 3000 stood out amongst the candidates as an innovative toy that enables kids to master 'future skills' such as coding in a fun way while promoting creativity among children. The interface was found to be very user-friendly and enables children to start familiarizing themselves with the art of programming. Since Artie 3000 only draws when programmed to do so, children have the opportunity to see how the commands that they have encoded turn into real movement. They can experiment, identify possible problems and find possible solutions to make the robot do anything they wish to create. Although some children might find it challenging at the beginning, Artie 3000 comes up with written and visual instructions to introduce them to coding and help them get new ideas.
It is also noteworthy that Learning Resources has ensured that Artie 3000 meets parents' privacy and security concerns: the robot has its own WIFI server and does not need to connect to the Internet. Neither the robot itself nor its interface collect any of the kids' data.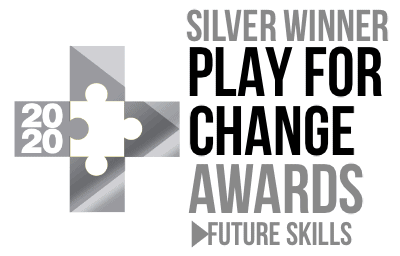 Adventure Airlines. My First Coding
A game for different ages that allows the child – depending on its age – to get very simple factual information about places around the world to allowing them to program a journey on the play mat.
The jury appreciated the way Adventure Airlines introduces relatively young children to programming and sequential thinking, while all the time getting them to learn about the world's geography, diversity and animals. The game will interest different age groups as the different play modes offer something for the ages from 2 to 6 years old. The 'simplest' mode allows free discovery and acquiring factual knowledge and older kids will be interested by the programming tasks that give them a challenge to complete. All these play modes contribute to the development of skills such as spatial thinking, cause and effect or programming in an amusing way.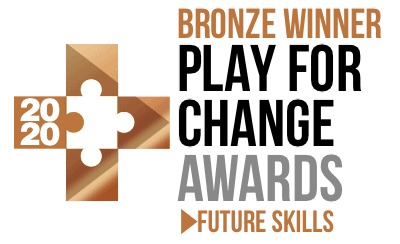 Geomag Pro-L Skyline New York
Pro-L Skyline New York is a magnetic construction toy for children over eight years where they can recreate a city skyline such as the one of New York through magnetic rods, balls and plastic discs.
The jury appreciated how the Pro-L Skyline New York allows children to use their imagination. The magnetic rods give them the opportunity to experiment and challenges them to solve problems and come up with strategies to build any kind of construction. Furthermore, the polarity indicators are visible which helps kids familiarize themselves with the properties of magnetism. This game encourages learning through hands-on-play, contributes to develop imagination and promotes STEM concepts among children.